Oh man, pretty much two years passed... and it really took me so long to finally come up with the next new follow up "Sports" post in form of a tribute to one of the ruling Bodybuilding Champs of our current time(s)... damn it... where does all the time go by so fast...?!? Okay, okay, okay, one after another, so here we go: Back then pretty much exactly two years ago in 2012 I did the last real proper tribute post to an active, currently competing Bodybuilding Athlete, the tribute post to honur the Canadian Muscle Machine Ben Pakulski that back then followed up pretty if not very promptly the tribute post to honour Zack "King" Khan, the ultimate Ultra Muscle Mass Freak from the U.K., and since then in two years no new proper tribute post of this kind used to come up. This had different reasons that I won't declare or write down here again in a detailed way or something like this, just let me say that it all culminated in the pretty dead last year of 2013, the decline and changing of the direction of what once was planned as the first theme days posting series in a row up here, and in the still pretty silent first half of this very year of 2014, so, okay, after enough time came and went unused and I am finally really back on track again with blogging and this blog came back to "real" life in a proper way some months ago and after I am enthusiastical and passionate running my "little baby", the "IRON AGE" series totally dedicated to (Old School) Bodybuilding, I really felt like it was definitely in every sense far about all and every time that I re-start working also on the regular "Sports" posts, finally, and so now I do so with this very article here and now. So, okay, straight into the action, here we go!!!
Inspired and influenced by the this Saturday happening annual battle for the crown at the stage of the "IFBB MR. OLYMPIA" I decided to let this post here be totally in the spirit and mood of this great competition and so I decided to pay tribute and give respect and honour to the currently ruling already three time(s) "MR. O.", to no one else than PHIL "THE GIFT" HEATH. To get it straight, I am not the biggest fan of him anyway, and I really thought and still think that in 2012 Kai Greene definitely was better than him, not to talk about Dennis Wolf the last year, maybe, but after the IFBB Pro Bodybuilding is pretty much like Sports Enteratinment like the WWE Wrestling nothing makes me wonder anymore. Also I am not that much comfortable with that stereotypical "All American Golden Boy" image with that at least slightly arrogant touch or note to it that is created by "WEIDER" publications like for example especially the "FLEX" magazine or like it was created in the movie "GENERATION IRON" for him to create a battle between him, Phil Heath the golden boy and champ, and Kai Greene, the underdog suffering through hardships (so it seems and feels to me), but I am also not so sure how true this all is, this whole imagery that's created around him. Keep in mind, pretty much like Sports Entertainment in the WWE style, so maybe we all shouldn't give so much about all the created images and rivalries and counterparts, created just to sell the product(s) and label(s), and better focuss and concentrate on the sports and the athletes. But like the WWE I enjoy also heavily the IFBB and know very well the effort, the passion, the dedication, and just the incredible hard work these athletes put in it, so that it is by far more sport than most of the other stuff else outta there. So, with that said I have also to state that PHIL "THE GIFT" HEATH is a great champion, a great "MR. O." and one of the best ambassadors Bodybuilding today could only have. And also, above all, he is a great athlete with one hell of an amazing and mind-blowing HD body direct from out of the third dimension, and so with maybe (or definitely) not all but surely nearly all possible justifications he holds the crown as being the No. One, as being the "MR. OLYMPIA", and this is exactly the reason why I decided here and now to pay tribute, give honour, and show respect to this great one known as PHIL HEATH or just: "THE GIFT", a name they all call him for a reason (or two, or more).
FROM BEING THE SHOOTING GUARD OF THE "DENVER PIONEER'S"...
*** PHIL "THE GIFT" HEATH ***
... TO BECOMING THE RULING "IFBB MISTER OLYMPIA".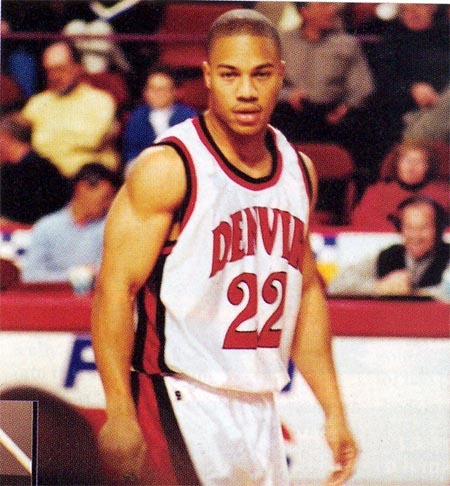 Phil Heath was born on the 18th of December in 1979 as a son to his parents in Seattle, Washington/U.S.A. who gave him his full proper name of Phillip Jerod Heath and in Seattle it was where he also spend his teenage and school day years, where he then used to discover and experience and further on develop his passion for and skills in playing Basketball. He was pretty good, so that maybe also a NBA career was possible for him, just that you know it. In Highschool, he visited the Rainier Beach High School, he played Basketball with a hunger for more and with the drive that's needed to make more out of it than just a hobby or a school sports thing, and so he finally earned and secured a scholarship to go to college, and so he did and the Uinversity of Denver was his choice and there he continued playing Basketball and became the shooting guard of the "PIONEER'S" or "DENVER PIONEER'S", and there he played in the NCAA Division 1-A Men's Basketball team from 1998 up to 2002. Like already said, he was a good player, but in no way he was that dominant on the hardwood than how he is it today on the stages of the IFBB Bodybuilding competitions. In his four year spanning career he scored 86 points before changing the Basketball top with the Posing slip and focussing solely on Bodybuilding and becoming the ruling biggest star of it today here and now. A lot of his understanding of and passion for being an athelete and doing what must be done by an athlete to get ahead he learned, archieved, and earned during his Basketball days especially when he was the shooting guard of the "DENVER PIONEER'S", so his future Bodybuilding career gained much benefit and profit from it and from the hard working focussed mentality that he earned as a Basketball player as well as his trust in his coach or coaches as well, something that still leads him through his career today and something that also benefits his career heavily. Beside playing Basket ball he also studied when he was at college and he finally double majored in "IT Technology" and "Business Administration", just that you know about it, not so unimportant.
With being no stranger to training and working out with weights Phil Heath more and more moved away from just being a Basketball player and became more and more fascinated by and with weight lifting and iron pumping. This ever ongrowing interest finally led him to quitting Basketball and focussing on Bodybuilding, it led him to really start with Bodybuilding and this finally led him to an impressive and amazing career, like we all know it today. It was especially his ongoing hunger for new experiences and challenges and a different, a more intense style of training and work outs as well as his curiosity of a very different style of competition like Bodybuilding on stage surely is compared with Basketball on the court that led him into Bodybuilding and away from Basketball. He moved more and more away from Basketball, and at the same time more and more (in)to Bodybuilding, also because he felt that Basketball not really led him to define himself as an athlete in a whole. And then in the October of the year of 2002 it finally happened, the time was right and the time had come for Phil Heath to fully move into Bodybuilding and to start his journey that led him from gaining his Pro Card finally to becoming the crowned king of Pro Bodybuilding and the definite current superstar of this sport, the "IFBB MR. OLYMPIA". His first competition he experienced in 2003, it was the "ROCKY MOUNTAIN USA CHAMPIONCHIP - NORTHERN CHAMPIONSHIP" and he already back then grew on from 185lbs. to 192lbs., so you see, he started back then in the Light-Heavyweight-Division, and he walked away with gaining gold and archieving the overall title win as well. And this fueled his fiery desire for more, for far more, and so he moved ahead and on and on. It took him just two more years before he won the "NPC U.S.A. CHAMPIONSHIPS" and there he then also walked away victorious with his IFBB Pro Card earned that allowed him from then on to compete as a IFBB Pro Bodybuilder. In 2006 he competed already as a Pro Bodybuilder and right from the kick off he won his first two pro competitions, the "COLORADO PRO CHAMPIONSHIP" and the highly reputated "NEW YORK PRO CHAMPIONSHIP". It was a very good first year as a Pro, a very good Rookie year, without any doubt. In 2007 he moved on to bigger stages and for the first time ever he competed at the infamous "ARNOLD CLASSIC" where he reached the fifth rank. This was enough for him to qualify for the 2007 "MR. O.", but anyhow Phil Heath decided not to participate, not to compete, because he felt like he really need more time to work hard and harder even than before on his form, and so he was not to be seen on the "MR. O." stage in 2007 even he was qualified for doing so.
In 2008 then he returned to competing on stage and he won the well-known "IRON MAN" show and placed second to Dexter "The Blade" Jackson at the 2008 "ARNOLD CLASSIC". In 2008 then Phil Heath finally competed at the "MR. O." stage for the first time ever and scored in at rank three, an impressive statement, and something that only the iconic Flex Wheeler managed to archieve in his first "MR. O." competition before him, and this was already in 1993. For the "MR. O." 2009 he was definitely the major fan favorite to take the title, but a stomach virus costed him the competition so that he finished it just placed fifth. In 2010 he was defeated by the mighty Jay Cutler at the "MR. O." stage, the then supreme ruling "MR. O.", but then in 2011 the signs where set different and Phil Heath defeated Jay Cutler and won the "MR. O." and became for the first time ever crowned the King of Bodybuilding, the "IFBB MR. OLYMPIA". In 2012 and 2013 he managed to defend his title against Kai Greene and "the rest of the world", and we will see what 2014 (and beyond) holds in store for him. Here you can have a look on the history of his so far archieved titles:
* 2003: "NORTHERN COLORADO STATE", 1st place Light-Heavyweight and Overall Victory (- See above, the "ROCKY MOUNTAINS" affair.)
* 2003: "NPC COLORADO STATE", 1st place Light-Heavyweight (After this competition he changed the ''weight class/division", from Light-Heavyweight to Heavyweight.)
* 2004: "NPC COLORADO STATE", 1st place Heavyweight and Overall Victory
* 2005: "NPC JUNIOR NATIONALS", 1st place Heavyweight and Overall Victory
* 2005: "NPC USA CHAMPIONSHIPS", 1st place Heavyweight and Overall Victory (There he earned his IFBB Pro Crad.)
* 2006: "COLORADO PRO CHAMPIONSHIPS", 1st place
* 2006: "NEW YORK PRO CHAMPIONSHIP", 1st place
* 2007: "ARNOLD CLASSIC", 5th place
* 2008: "ARNOLD CLASSIC", 2nd place
* 2008: "MISTER OLYMPIA", 3rd place
* 2009: "MISTER OLYMPIA", 5th place
* 2010: "ARNOLD CLASSIC", 2nd place
* 2010: "MISTER OLYMPIA", 2nd place
* 2011: "MISTER OLYMPIA", 1st place
* 2011: "SHERU CLASSIC", 1st place
* 2012: "MISTER OLYMPIA", 1st place
* 2012: "SHERU CLASSIC", 1st place
* 2013: "MISTER OLYMPIA", 1st place
* 2013: "ARNOLD CLASSIC EUROPE", 1st place
Beside competing on stage he also appears usualy and regulary in all the known "WEIDER" publications, especially the "FLEX" magazine, as well as he was the major star of and in "GENERATION IRON" and also beside this movie he released several Bodybuilding work out, diet, and lifestyle DVD's, as well as he runs his own Nutrition & Supplement company, "GIFTED ATHLETICS", and he also appeared at the 20th of October of the year of 2013 as a special guest star at the TNA PPV "BOUND FOR GLORY". Ah, and he was for all what I know pretty much the only athlete who was already signed by or to "AMI"/"WEIDER" when still being an amateur athlete, because they were already back then so impressed and convinced by his potential and also due to the promo work that the great Jay Cutler put in for him to convince the guys at "AMI"/"WEIDER" even more. Before we are now coming to the closing lines of this articlel let us have a short look on his body stats:
- Height: 5,9''
- Offseason Weight: 280lbs.
- Competition Weight: 250lbs.
- Arms: 23
- Legs: 32
- Calves: 20
- Neck: 18,5
- Waist: 29
Phil Heath is known for his amazing genetics and his smart and very intelligent training systems and strategies and his trust in his chosen trainers/coaches. Both, his impressive genetics and his very smart art of training, led him to his amazing and truly complete HD body with that for him typical bombing and/or bombastic 3D effect and also to his nickname "THE GIFT", just look at him and you will get it. Today he is married and lives in Arvada, Colorado/U.S.A. and trains at the "ARMBRUST PRO GYM" in Wheat Ridge, Colorado/U.S.A., and all signs are set for him to have an even brighter future than his already very bright present.
Okay, that's it so far, now for your visual inspiration just a few videos of PHIL "THE GIFT" HEATH, and then that's it for this post. I hope you enjoyed it and by any means stay tuned for the "MISTER OLYMPIA 2014" happening this coming weekend
, and maybe you are as curious and exited about it as I am,

and then for now just thanks for your time and interest.
Keep on pumping and stick to the iron. /// Andy
(PHIL HEATH, full body work out for the "MR. O. 2014")
(PHIL HEATH, Bodybuilding motivation video)
(PHIL HEATH, road to the "MR. O. 2014", shoulder workout)
(PHIL HEATH, work out video from 2013)